Ingredients:
For the taco meat:
1

 

teaspoon

 

olive oil

1

 

white onion, diced

1

 

pound

 

94% lean ground turkey (can also use 99% lean if you desire)

3

 

garlic cloves, minced

1

 

(8 oz) can tomato sauce (1 cup)

1/4

 

cup

 

water (only if making stovetop version)

2 1/2

 

teaspoons

 

cumin

2 1/2

 

teaspoons

 

chili powder

1

 

teaspoon

 

dried oregano

½

 

teaspoon

 

paprika

⅛

 

teaspoon

 

cayenne pepper, optional

¾

 

teaspoon

 

salt
Optional toppings:
8

 

soft corn tortillas (or flour if you prefer)

3/4

 

cup

 

grape tomatoes, quartered (can also use 1 large tomato, diced)

½

 

cup

 

shredded cheddar cheese

1

 

avocado, diced (or sub guacamole)

Shredded lettuce

Sliced fresh or pickled jalapeños
Instructions:
1. Add olive oil to a large skillet and place over medium-high heat. Add diced onions and turkey. Brown the turkey, and break up the meat with a wooden spoon until nice and browned (about 5 minutes).
2. Transfer to the slow cooker and add in garlic, tomato sauce, cumin, chili powder, oregano, paprika, cayenne pepper, and salt. Stir to combine. Cook on high for 2-3 hours or on low for 6-7 hours.
3. Once ready to serve, divide meat between 8 corn torillas. Add optional toppings: tomatoes, cheese, diced avocado/guacamole, lettuce, and jalepeno. Serves 4. Optional to serve with Greek yogurt.
Ingredients:
1/2 tablespoon olive oil
1 white or yellow onion, chopped
1 jalapeño, seeds removed and finely diced
3 cloves garlic, minced
1 (28 ounce) can crushed tomatoes or tomato puree (do not use tomato sauce)
1 tablespoon fresh grated ginger
1/2 lemon, juiced (about 1-2 tablespoons fresh lemon juice)
1 tablespoon garam masala
1 teaspoon paprika
1/2 teaspoon cayenne pepper
1/2 teaspoon ground turmeric
1/2 teaspoon curry powder
Freshly ground black pepper
1/4 teaspoon salt
1 1/2 pounds boneless skinless chicken breasts
1 cup light coconut milk (from the can)
Additional salt, to taste
Optional for garnish: greek yogurt & cilantro
Instructions:
1. Heat olive oil in a large skillet over medium heat. Add in onion, jalapeno and garlic; saute for about 5 minutes or until onions are slightly golden and translucent. Transfer to a large slow cooker.
2. Next add in tomato puree, ginger, lemon juice, garam masala, paprika, cayenne pepper, turmeric, and curry powder to the slow cooker; stir to combine. 
3. Add chicken breasts and spoon sauce over the chicken to make sure they are covered. Cover and cook on low for 6-7 hours or on high for 2-3 hours.
4. Once cooked, remove chicken with a slotted spoon and transfer to a cutting board. Shred the chicken with two forks, then transfer back to the slow cooker.
5. Stir in coconut milk and allow to cook on high UNCOVERED for 15-20 more minutes to help thicken the sauce. Taste and adjust seasonings as necessary, including adding more salt, if desired.
6. Serve with brown rice, pita bread/naan or enjoy as is. Garnish with plain greek yogurt and chopped cilantro. Store any leftovers in the fridge for up to 4 days.
Honey Nut Granola
Ingredients:
4-1/2 cups old-fashioned oats
1/2 cup sunflower kernels
1/3 cup toasted wheat germ
1/4 cup unsweetened shredded coconut
1/4 cup sliced almonds
1/4 cup chopped pecans
1/4 cup chopped walnuts
1/4 cup ground flaxseed
1/2 cup honey
1/3 cup water
3 tablespoons canola oil
1 teaspoon ground cinnamon
1 teaspoon vanilla extract
1/2 teaspoon ground nutmeg
Dash of salt
3/4 cup dried cranberries
3/4 cup raisins
Yogurt (optional)
Instructions:
1. In a 3 or 4-qt. slow cooker, combine the first 8 ingredients. In a small bowl, whisk honey, water, oil, cinnamon, vanilla, nutmeg and salt until blended; stir into oat mixture. Cook, covered, on high 1-1/2 to 2 hours or until crisp, stirring well every 20 minutes.
2. Stir in cranberries and raisins. Spread evenly onto waxed paper or baking sheets; cool completely. Store in airtight containers. If desired, serve with yogurt.
Black Bean Sweet Potato Chili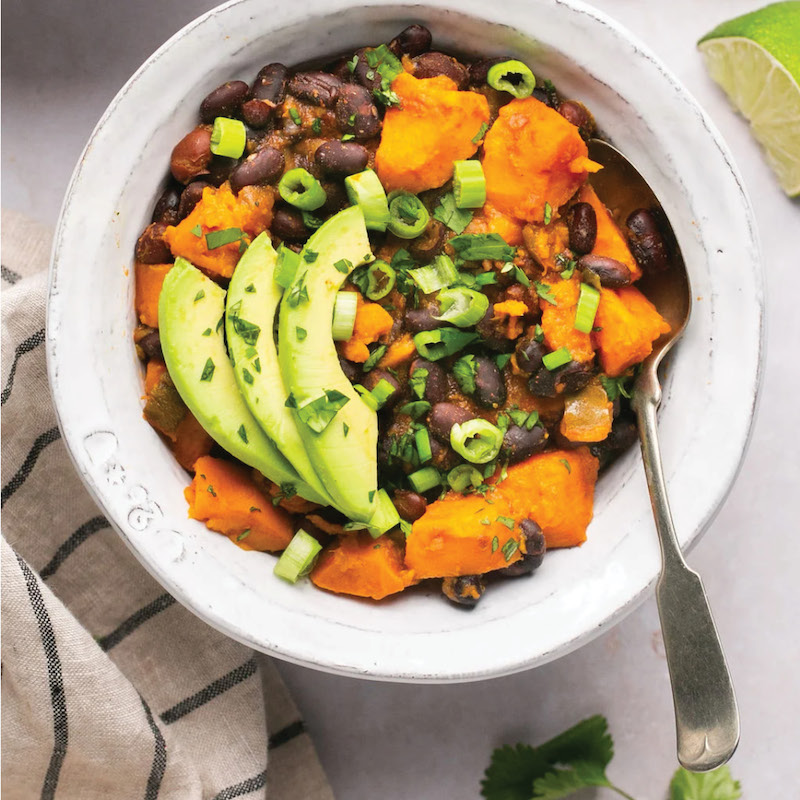 Ingredients:
4 cups (1-inch) chopped sweet potato, from about 3 medium peeled sweet potatoes
2 (15-oz) cans black beans, drained and rinsed
1 (15-oz) jar chunky salsa
1 teaspoon cumin
1 cup vegetable stock (or chicken stock if not vegan/vegetarian)
½ teaspoon kosher salt
1 teaspoon smoked paprika, optional
Optional Toppings
Guacamole
Fresh lime juice, recommended, avocado, sour cream, chopped green onion, cilantro, or chopped jalapeño.
Instructions:
1. Place all the ingredients in a 6-quart slow cooker, stirring to combine.
2. Cover and cook on high for 3-4 hours or low for 6-8 hours, or until the potatoes are cooked through.
3. Add fresh lime juice (if using), stirring to combine. Top with toppings, if desired, and serve.