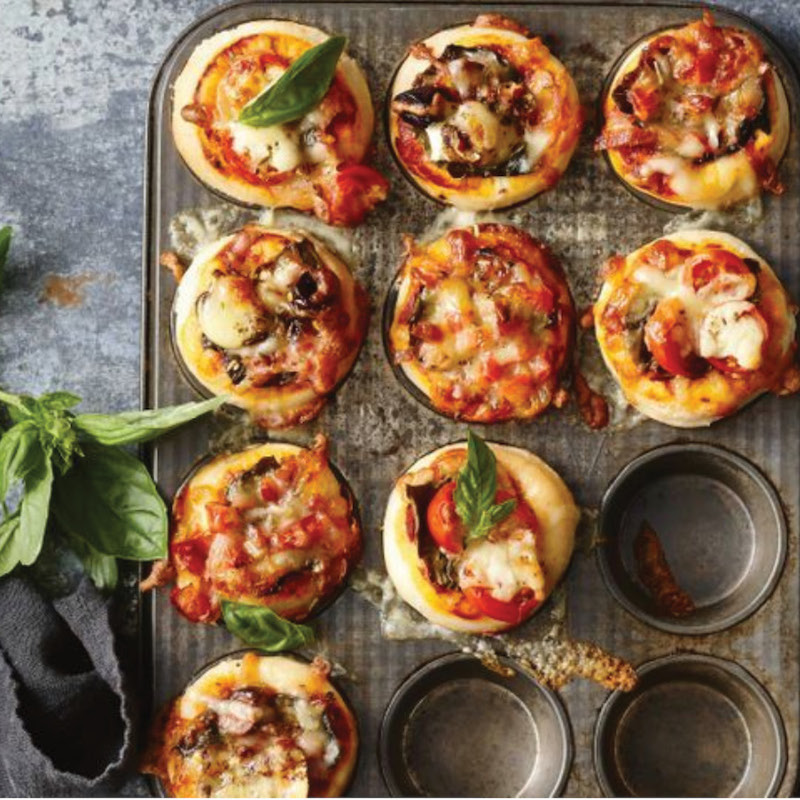 Ingredients:
1 1/3 cups plain flour, plus extra for dusting
7g sachet dry yeast
1/4 tsp caster sugar
Pinch of salt
2 tbsp extra virgin olive oil
1/4 cup pizza sauce
1 1/4 cups grated mozzarella
12 fresh basil leaves, plus extra to serve
250g cherry tomatoes, halved (see topping variations in Notes)
1/4 tsp mixed herbs
Instructions:
1. Preheat oven to 200 C/180 C fan-forced. Grease a 12-hole (1/3-cup-capacity) muffin pan.
2. Combine flour, yeast, sugar and salt in a large bowl. Make a well. Whisk oil and 2/3 cup warm water in a jug. Add to well. Mix to form a soft, sticky dough. Turn dough out onto a lightly floured surface. Knead for 8 to 10 minutes or until dough springs back when touched.
3. Roll out dough until 5mm thick. Using a 7cm round cutter, cut 12 rounds from dough, re-rolling and cutting trimmings if needed. Line holes of prepared pan with dough rounds, pushing into pan to come 3/4 up side of each hole.
4. Spread pizza sauce over base and sides of pizza bases. Sprinkle with a little of the mozzarella. Top each pizza base with a basil leaf, then tomato. Sprinkle with remaining cheese, then dried herbs. Bake for 15 to 20 minutes or until bases are golden and cheese is melted. Stand in pan for 5 minutes. Carefully transfer to a baking paper-lined wire rack to cool. Serve warm or cold.
Kid-Friendly Wraps
by Super Healthy Kids
Wraps are great for mixing and matching.
Ingredient Ideas:
Proteins:
deli ham, chicken, or turkey
tuna fish
cheese
hummus
egg salad
scrambled eggs
grilled chicken or chicken salad
peanut or almond butter
re-fried beans
cooked ground turkey/beef
ricotta cheese
black or kidney beans
Veggies:
shredded carrots
lettuce
tomatoes
avocados
olives
bell peppers
onions
mushrooms
spinach leaves
chopped celery
cucumbers
Fruits:
banana slices
berries
apple slices
pear slices
all fruit jam
raisins
dried cranberries
peaches or nectarines
Dressing, Sauces, and Spreads:
bottled salad dressings like ranch, honey mustard, or Italian
mustard
mayonnaise
guacamole
hummus
cream cheese
basil pesto
nut or seed butter
Homemade "Lunchables"
by Live Simply
Like the wraps above, homemade lunchables are up to you and your creativity.
Helpful Tools:
Bento Box
Silicone Muffin Liners
Large Leak-Proof Container
Small Leak-Proof Dipper Container
Ice Pack
Theme Ideas:
Deli Meat, Cheese, and Crackers
Build Your Own Pizza
Chicken Nuggets
Turkey or Ham and Cheese Sandwich
Chicken or Tuna Salad
Vegetarian Hummus
Build Your Own Taco
Build Your Own Parfait
Instructions:
There are no official rules for lunchables, but to maximize your child's nutrition, aim for at least one protein, one carb, one fruit, and one veggie.
Banana "Sushi"
by My Fussy Eater
Ingredients:
Sprinkles Sushi:
1 banana
2 squares dark chocolate
1 tbsp sprinkles
Chia Seed Sushi:
1 banana
2 squares dark chocolate
0.5 tbsp chia seeds
Coconut Sushi:
1 banana
1.5 tbsp nut butter
1.5 tbsp shredded coconut
Rice Krispie Sushi:
1 banana
1.5 tbsp nut butter
3 tbsp rice krispies
Instructions:
Peel the bananas and place them on a plate or board.
For the Sprinkles and Chia Seed Sushi, melt the chocolate and pour it on top of the bananas. Add the sprinkles or chia seeds on top and place in the fridge until set.
For the Coconut and Rice Krispie Sushi, spread the nut butter onto the top of the bananas and then roll them in the shredded coconut or rice krispies.
Serve straight away.
Chocolate Chip Cookie Dough Energy Bites
by Jar of Lemons
Ingredients:
4 Scoops Vanilla Protein Powder
1/4 Cup Almond Butter
1/4 Cup Honey
1/4 Cup Agave or Maple Syrup
1/4 Cup Rolled Oats
1 Tbsp Unsweetened Almond Milk
1 Tbsp Dark Chocolate Chips
Pinch of Salt
Instructions:
Mix all ingredients well (except for chocolate chips) by hand, mixer, or food processor.
Mix in chocolate chips.
Roll out dough if making into bars, or place in container. Enjoy!