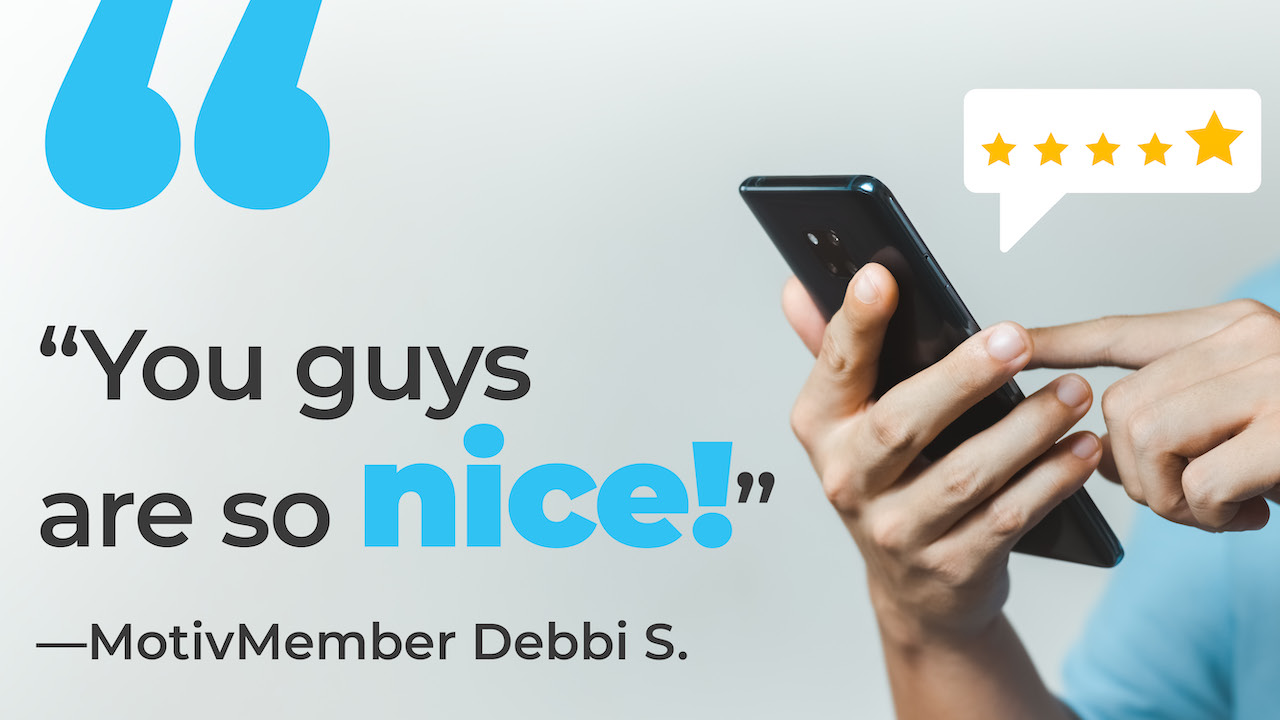 At MotivHealth, we're motivated to make insurance user friendly. Insurance is the "man behind the curtain" in the world of healthcare, and while many people would like to avoid dealing with insurance, it's essential. We work quickly and smoothly to find members the best care at the best price. We're transforming health insurance by educating members about industry jargon, readily answering questions, and giving our undivided attention to every single claim. We are real people helping real people and know that nothing should stand in the way of our members' health. MotivMember Jacquelyn B. says it best with her bright review:
"Insurance is usually a necessary evil that causes lots of headaches. MotivHealth is doing a great job at changing the way I personally feel about our health insurance coverage. I'm a fan.
MotivMember Jeff M. adds:
"We have only been with Motivhealth for three months now, and I have yet to find a complaint. This is absolutely the first healthcare company that we have been with that is actually for the patient and is actively looking for ways to save us money. So glad that we found this company that has provided top-tier customer service as well."
We really are innovating health insurance. Take it from MotivMember Steven P.:
"Motiv is innovating the future of medical health insurance by personalizing the experience for every member. I'm excited to be a part of this and wish I could invest in the company model because it is THAT cool."
Engaging Members Through MotivU
Many people agree that insurance can be overly complicated. Not at MotivHealth! Our MotivU courses help members better understand the world of insurance, which ultimately leads to greater savings.
"Great experience with getting to know how insurance companies work for healthcare. MotivHealth has definitely helped me!"

—MotivMember Scott A.
"Easy to follow overview of the MotivHealth opportunities to save with medical related costs as well as financial savings for retirement.
—MotivMember Laurie H. 
"It was so great to actually know more about MotivHealth and HSA and other programs that Motive health offers."
—MotivMember Monique G.
Thanks to our lower premiums, better benefits, and smarter insurance, the 5-star reviews keep rolling in! Thank you to everyone who took the time to leave a review. If you haven't left a review and you'd like to, click the button below.